Opel Calibra (tuning)
Autor: DJ Aliens
Data publikacji: niedziela 12 grudnia 2004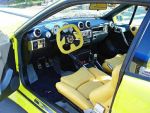 Mistrz świata w dziedzinie aerodynamiki z wynikiem Cx=0,26 świętował swoją premierę na IAA w 1989 roku. To sportowe 2+2 Coupe bazuje na konstrukcji Opla Vectry i poprzez to posiada identyczny rozstaw kół. Chociaż produkcja Calibry rozpoczęła się w czerwcu 1990 roku, już na Boże Narodzenie w 1989 zdobyła ona nagrodę za swój design.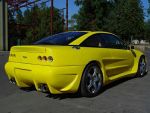 Calibra zachwyciła publiczność nie tylko swoim atrakcyjnym wyglądem, ale również ekonomią i praktycznością. Nieprzypadkowe jest podobieństwo do Opla GT, oba auta mają tego samego ojca - Erharda Schnella. Rzucającymi się w oczy elementami Calibry są wąskie, wcięte reflektory i klinowany kształt z wystającym tyłem i ostro opadającą powierzchnią tylnej szyby. Calibra posiada najbardziej płaskie reflektory świata! Dodają one wiele sportowemu wyglądowi auta i są charakterystycznym znakiem mistra - cw.

Opel Calibra był seryjnie wyposażony w ABS, wspomaganie, elektrycznie podgrzewane lusterka i sportowe fotele. Jednakże całe wnętrze zostało "wypożyczone" od siostrzanego modelu Vectry. Od 1993 roku Calibra była oferowana z dwiema poduszkami powietrznymi.
Pierwsze "High-tech" sportowe coupe Opla oferowane było z 5 wersjami silnika: 2.0 (115 PS); 2.0 16V (150 PS), zastąpiony później przez wersję ECO Tec (136 PS); 2.5 V6 (170 PS) i top wersję z napędem na 4 koła, 6 biegową skrzynią biegów, silnikiem 2.0 16V Turbo (204 PS) i prędkością maksymalną wynoszącą 245 km/h.
Oferowano również specjalne edycje Calibry, tj. DTM/Rosberg, Classic, Young oraz Cliff Motorsport Edition. Opel Calibra w momencie debiutu był majstersztykiem designu. Kiedy porównywano ją do konkurencji tj. Audi i VW widać było ogromną przewagę. Nawet dziś, po ponad 10 latach Calibra nie wygląda staro, lecz zachowała "młody wygląd".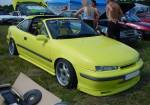 Na początku 1993 roku podano pierwszą wiadomość, że Opel na bazie Calibry 4x4 z silnikiem 2.5l V6 ma znów wziąć udział w wyścigach DTM. Na jesieni to już był fakt - Calibrę DTM można było zobaczyć na torze Hockenheim. W sezonie 1994 w teamie Opla jeździli ex-mistrz F1 - Keke Rosberg i dwaj zwycięzcy Le-Mans - Manuel Reuter i John Winter pseudo Louis Krager. Byli to kierowcy, którzy mogli zapewnić podium dla Opla.

W sporcie motorowym najwyższy wynik uzyskała Calibra w 1996 roku, wygrywając edycję mistrzostw ITC, zarówno jako najlepszy team jak i kierowca. Niestety ciąg dalszy sukcesów nie nastąpił, ze względu na wycofanie Calibry ze sportu motorowego oraz zakończenia produkcji. Opel Calibra daje szczególnie duże pole do popisu tuningo-maniakom.

Materiały pochodzą ze strony www.calibra-team.pl.



Wasza ocena prezentacji




7.4 - 25 głosy


Jak oceniasz ten artykuł?




Komentarze ... 10 ostatnich
pauppu


05 wrz 16 - 09:17
Komentarze: 25

It is safe to buy generic viagra online from these well-informed vendors, because they know what they are selling, and the effects it will have on your sexual well being. It is plain logic that a person who likes to buy Viagra would use the word 'Viagra' in his search for the erectile dysfunction drug online.Rarely would a person key in a word that is not related to Viagra if he's planning to buy Viagra. Would you? So, what does a Viagra vendor do, keeping in mind this particular psychological aspect of the buyers? He would try to inculcate in the content of his site, words like Viagra, buy Viagra, buy Viagra online , cheap Viagra, Viagra online, discounted Viagra and a plethora of such keywords that millions of buyers use, while going through Google search or yahoo search.


Ponieważ coraz częściej pojawiały się komentarze nic nie wnoszące lub zawierające same przekleństwa, publikować wypowiedzi mogą tylko zarejestrowani użytkownicy. Jeżeli więc masz coś ciekawego do powiedzenia, poświęć chwilę i zarejestruj się (następnie musisz się zalogować).
Czas tworzenia: 0.2573 sekund(y). DB queries: 14.